The tea plant – camellia sinensis has evolved through the generations and from continent to continent. With its origins as far as china, this plant with its varieties found its way into African plantations; thanks to the East African railway line, it became popularized by the Asian traders here, who called it chai.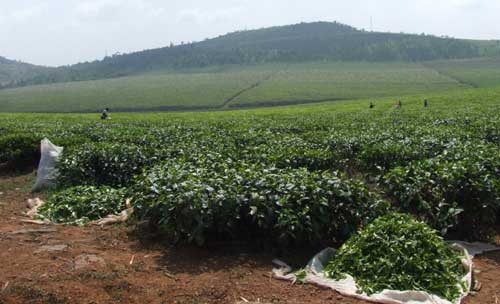 In Uganda, tea estates were initiated in the hilly regions of the country by the pioneer tea growers. Prior to 1970, most of the tea business was owned by the Asian based companies but political and economic changes in the country led to the expulsion of the Asians from the country and consequently the phasing out of the then household names like Brooke bond tea as well as the emergence of Garden tea, and from then, the quality of the tea produced in Uganda could only take an upward trend. Walk through any super market or up market hotel and you may think the only tea brand available in Uganda is Garden tea. Yet, although many other tea companies sprung up at the same time, the constant uniqueness of Garden tea easily positioned it as the market leader and has remained so to-date.
Ugandan tea speaks volumes. Most of the tea produced is green tea known for its nutritional and health benefits, and the use of pesticides is generally limited. This, coupled with abundant supply of labor ensures that many of the processes during its making are not mechanized, hence giving garden tea a unique identity.